Swimming pools Generally open from Memorial Day through Labor Day, depending on the weather. No smoking is allowed at either pool. Children under 14 years of age must be accompanied by an adult.
Times subject to change.
HILLTOP POOL
Pool Hours 9 AM to 7:30 PM
Group Exercise Daily 9 AM – 10:30 AM
Recreational Swim 10:30 AM – 7 PM
Adult Lap Swim Daily 7 PM – 7:30 PM
There is an adjacent smaller pool for young children.
MEADOWVIEW POOL - Heated Seasonally
Pool temporary Hours 9 AM to 7:30 PM
Adult Lap Swim Daily See Hilltop Pool
Group Exercise Daily 9 AM – 10:30 AM
Recreational Swim 10:30 AM – 7:30 PM

Hilltop Clubhouse
Located within Hilltop Park, the clubhouse is for use and enjoyment by Forest Meadows homeowners. Tables, chairs and large coffee pots are available inside, as well as a stove, sink, microwave oven, refrigerator and countertop-space for food serving.
A clubhouse reservation is required for meetings, parties or other events. The reservation form and clubhouse-use policies are available at the Forest Meadows Owners Association website or in the association office.
Picnic areas
Hilltop Park and Meadowview Park each have picnic areas, with barbecue grills, picnic tables and entertainment stages. Meadowview Park has a large shaded arbor over the picnic tables.
Large picnic groups must make a reservation through the association office.
Other park amenities
Meadowview Park: bocce ball, tennis and pickleball courts, horseshoe pits and children's playground.

Hilltop Park: basketball court, tennis courts and a newly refurbished childrens playground.
For dog owners
Our community has a fenced, off-leash, dog park on Lupine Lane that is beyond the Forest Meadows front entrance gate. Please clean-up after your pet.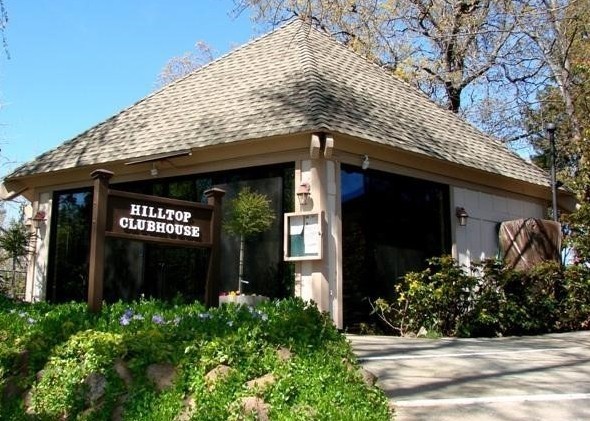 Group Pool Exercise (seasonal): 9 a.m., Mondays, Wednesdays and Fridays, at Hilltop pool and 9 a.m., Tuesdays and Thursdays at Meadowview Pool.
Bocce Ball Games: 5:30 p.m., selected Tuesdays, at Meadowview Park (weather permitting).
Pickleball: 3 P.M. Tuesdays and Thursdays and 9:00 a.m. Saturdays at at the Meadowview Park Tennis Courts (weather permitting).
Poker Nights: Hilltop Clubhouse.
Regularly scheduled Forest Meadows activities
(see Events page Calendar for dates):